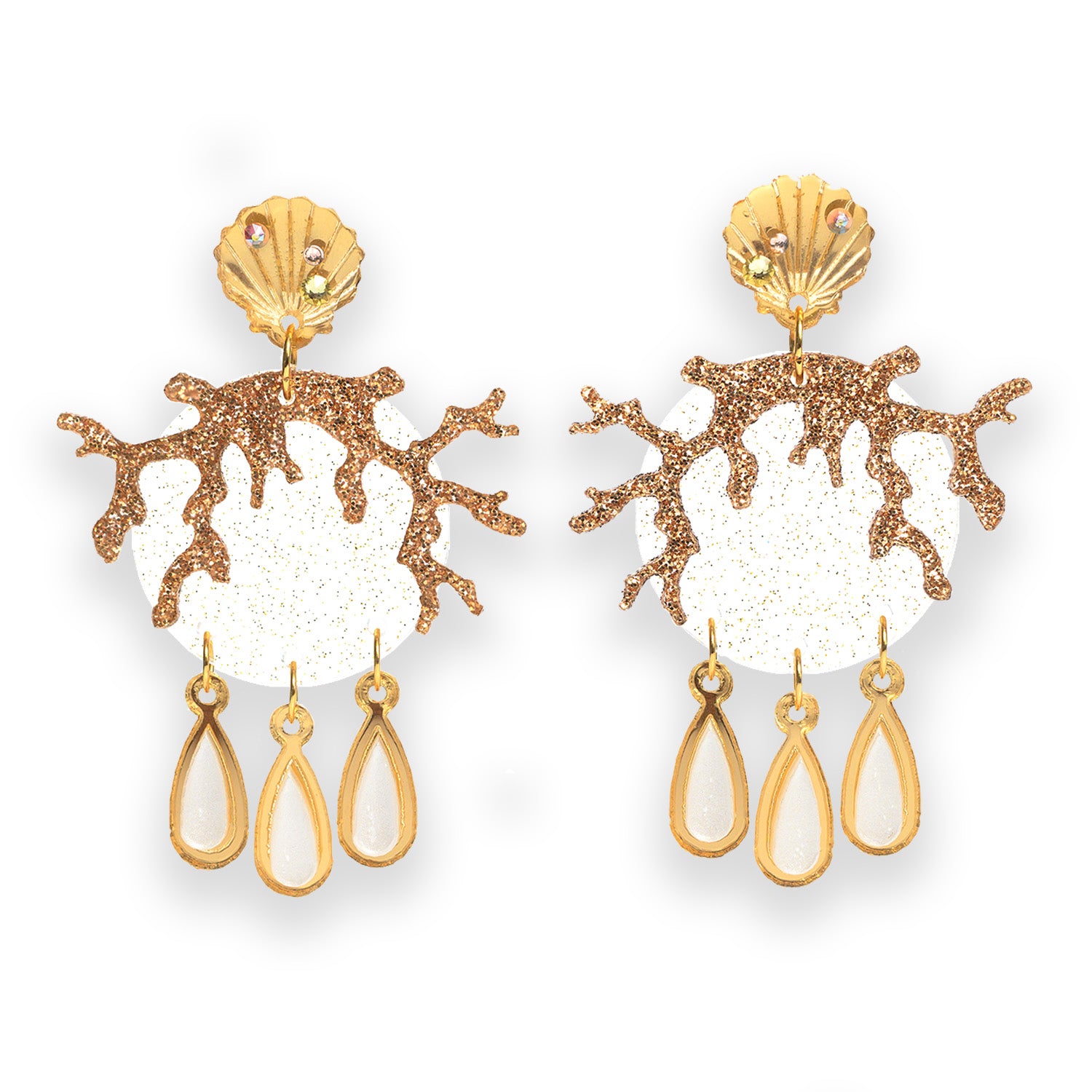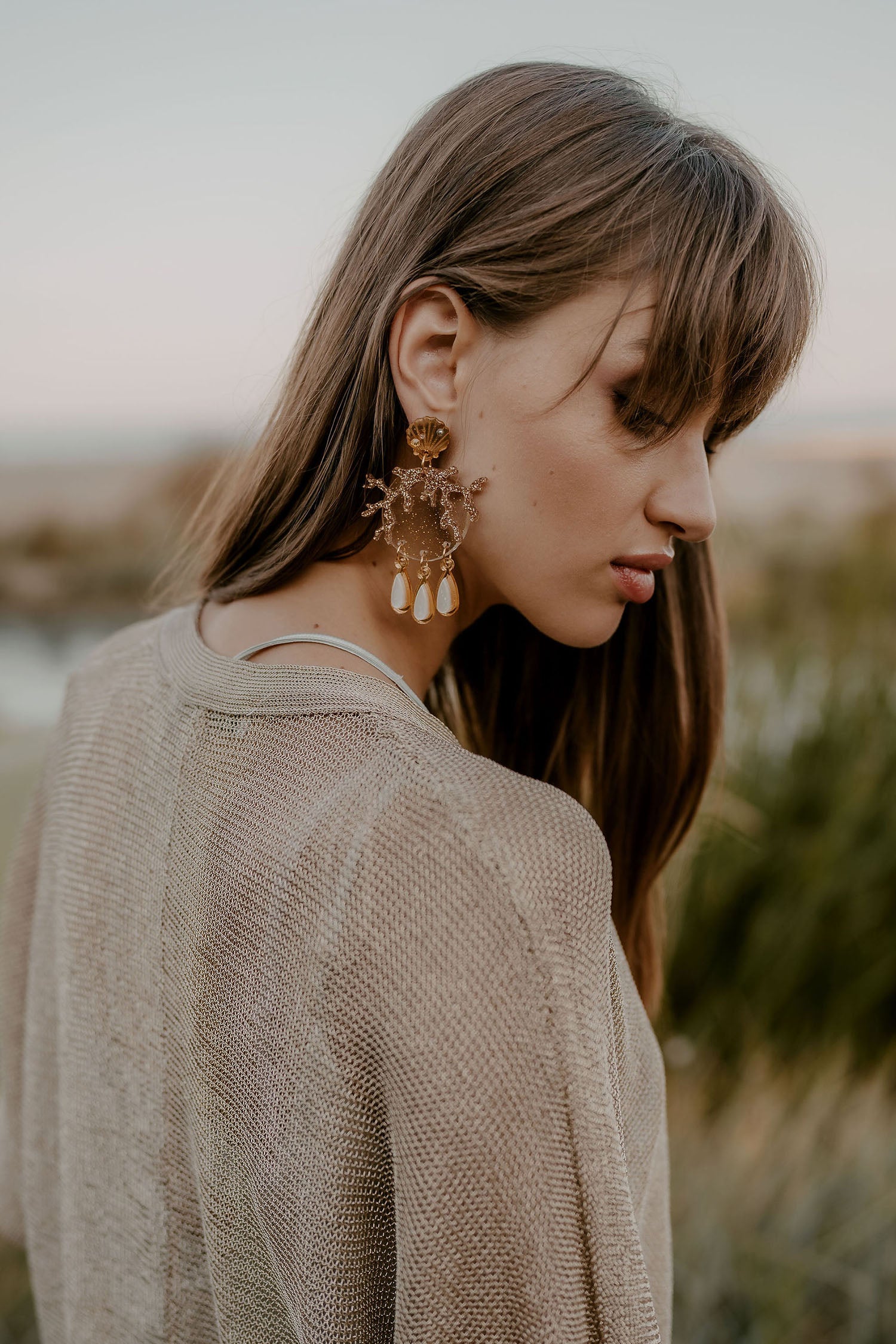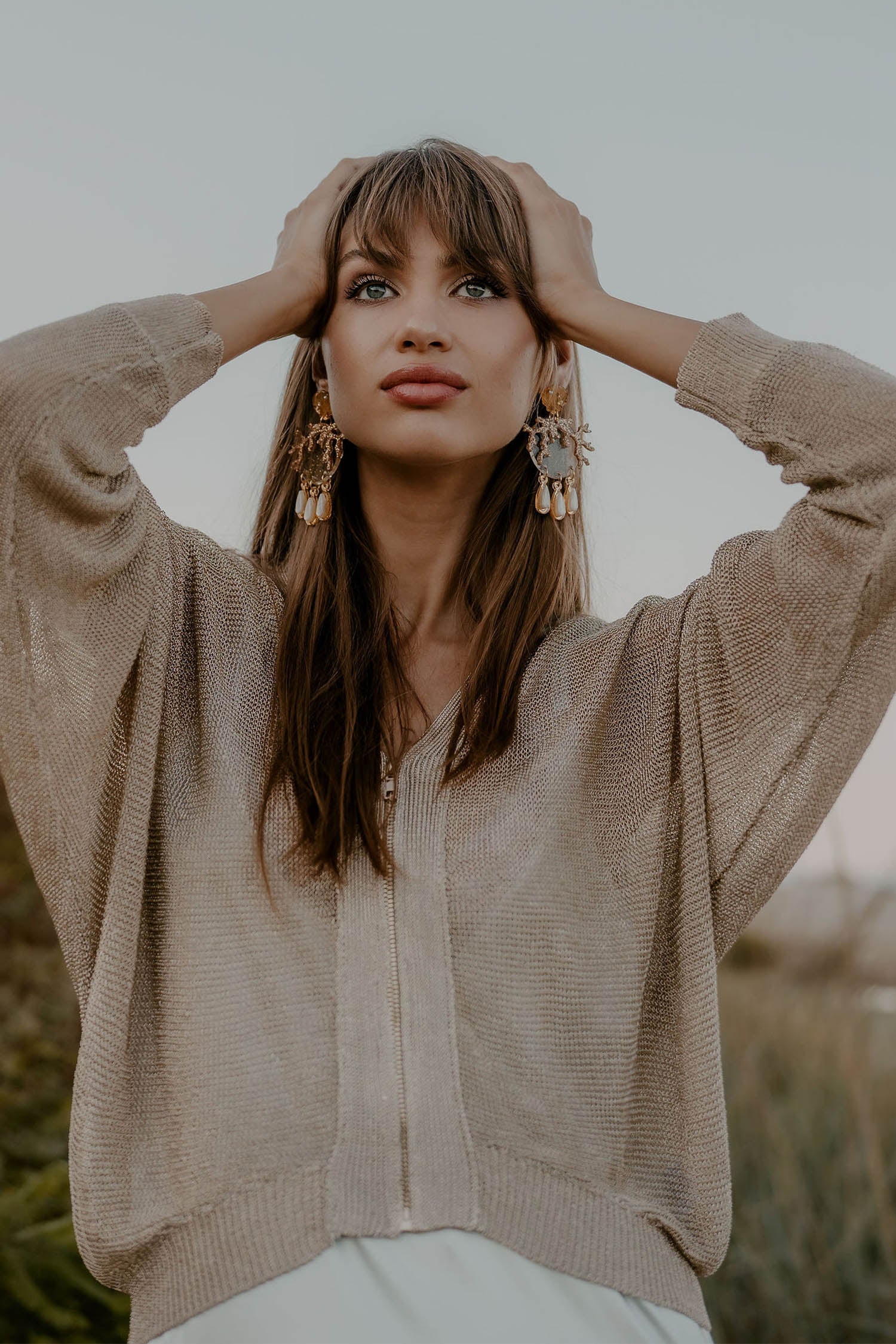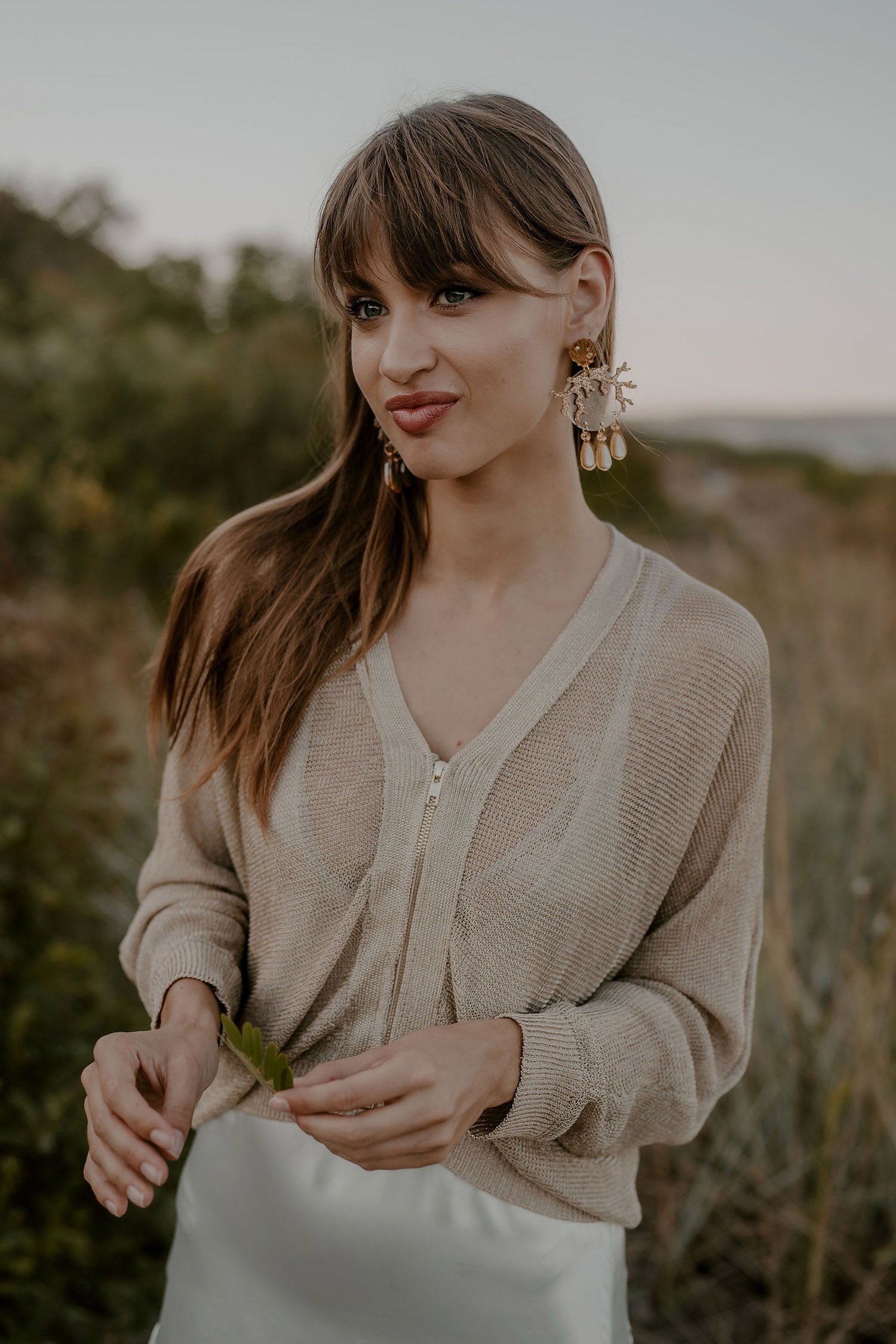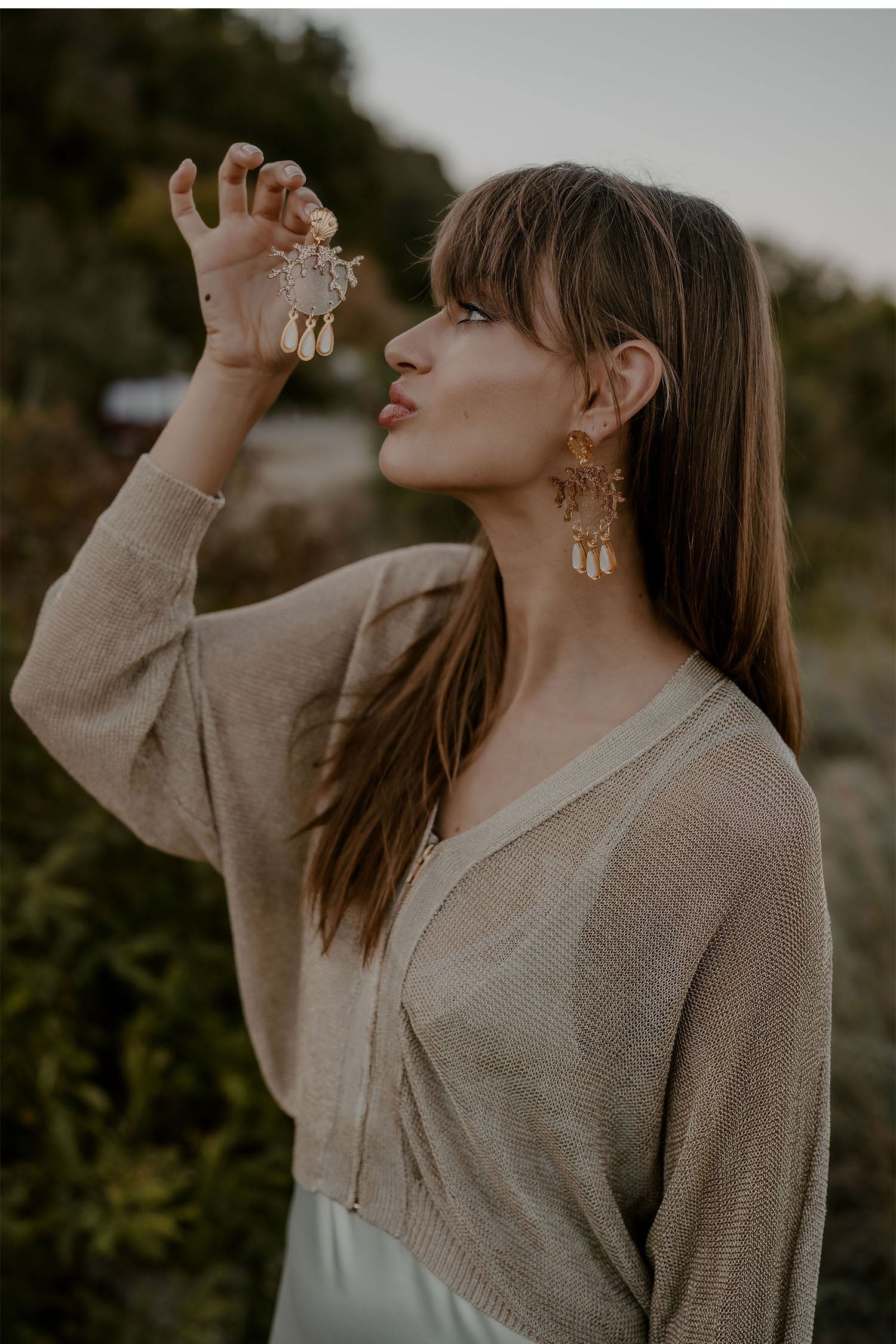 [ VENUS ] Introducing the VENUS Earrings – a captivating manifestation that captures the richness of the sea's treasures, exuding opulence and elegance in every detail. These earrings stand as an exceptional masterpiece to our Bridal collection, interweaving the timeless aesthetics of the baroque era with classical regality and a contemporary twist.
Taking center stage at the apex is a resplendent golden shell adorned with dazzling crystals, reminiscent of the ocean's most prized gems and radiating an aura of oceanic royalty. Just beneath, a shimmering, glittering golden coral sways gracefully, evoking the play of sunlight on tranquil waves. Its central sparkle artfully mirrors the dance of light upon the sea's surface. Below this, three delicately suspended almond-shaped charms embody pearls, timeless symbols of refinement and the sea's bounty.
The Venus Earrings harmonize historical grandeur with modern sophistication, meticulously crafted to embody an awe-inspiring marine splendor and artistic mastery. Adorn yourself with these earrings as a personal testament to your elegance and poise, paying tribute to both a regal past and a modern present.
Earring weight: approx. 10,3 grams (lightweight)
Materials: Acrylic, Crystals, Stainless Steel
Note: All earring designs part of the PRSNL Co Bridal Collection are made to order. This means that the pair will be crafted once the order is confirmed. Production time is up to 15 business days, however, we do our best to ship things to you as early as possible.
If the nature of your order is time sensitive we highly advise you contact us before placing your order.
This image should be used as a guide only. Colours may vary depending on your computer and device screen.
Little extras
Let's make it special
Want to make things a bit extra special by adding a personalised note? No problem! Just send us a message via our contact form.
Packaging & Shipping
All orders will be beautifully packaged using small sturdy ECO Friendly boxes and securely placed in 100% biodegradable, compostable satchels to ensure maximum protection during shipping.
Get in touch
Any questions about this item? Send us a message via our contact form and we will gladly give further details.